We make Business Intelligence easy
We want to see your business grow - sustainably. Having real time, accurate and relevant information is key to making informed decisions that lead to sustainable growth and profitability for your business. At Firehawk Analytics, we offer a complete solution, from the people who will get you moving to the tech platform that understands your entire business by connecting to 200+ applications of any business type, our system architecture extracts the right information and produces meaningful insights.
"Empowering every decision and every team member with precise, timely and actionable data insights."



CLEAR INSIGHTS
Seamlessly accessible for everyone
Firehawk Analytics simplifies business intelligence, making it accessible for everyone, from shareholders to frontline staff. We provide clear and tailored insights for every role.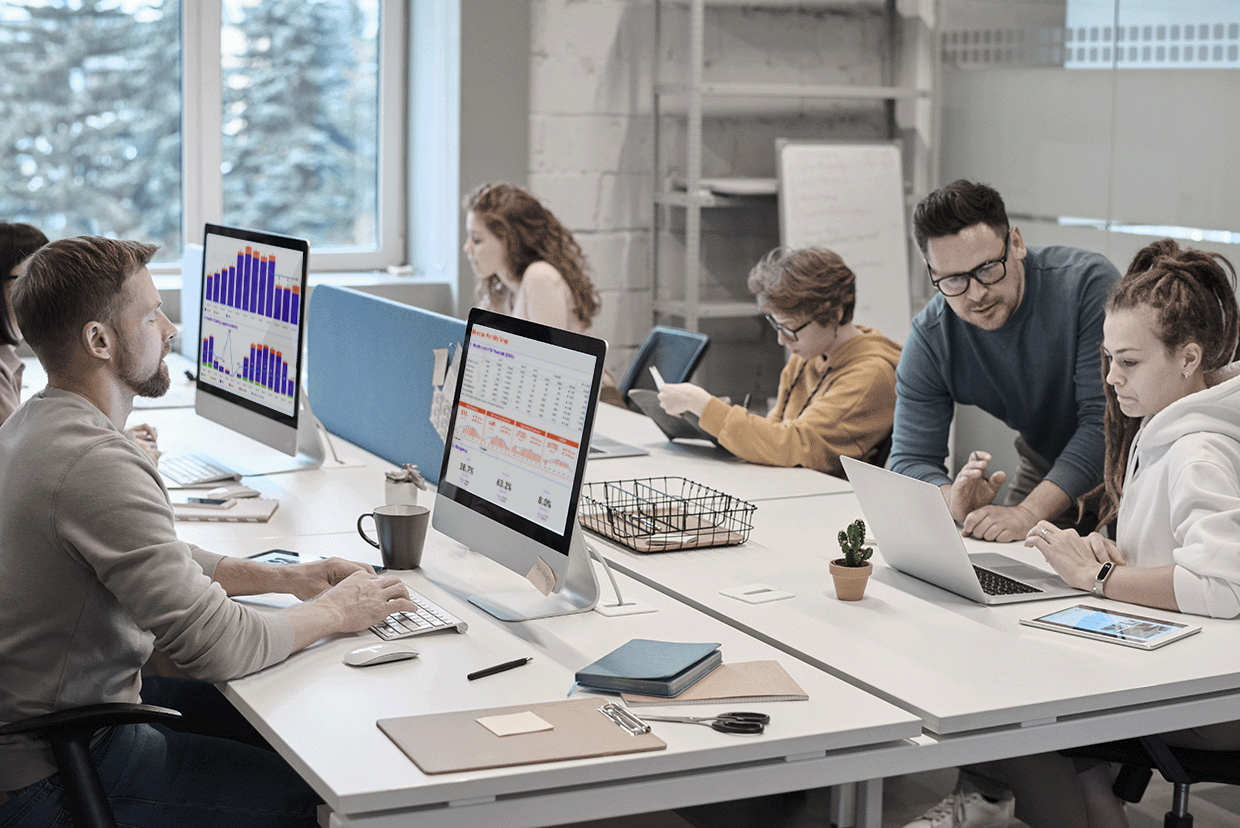 TAILORED DASHBOARDS
Dive into simplicity and precision with us, and elevate your business intelligence experience.
Firehawk Analytics crafts tailored dashboards for every user group, ensuring personalised insights at a glance. Coupled with timely alerts, we ensure everyone stays informed and ahead of the curve.
INTEGRATIONS
With Firehawk Analytics, no data source is out of reach.
Seamlessly integrate with both structured and unstructured data across a vast spectrum of over 200 business applications, ensuring a holistic view of your business insights.
BEYOND MERE DATA
Firehawk Analytics crafts an entire story, illuminating every facet of your business with unparalleled visualization and insights.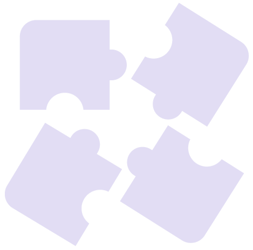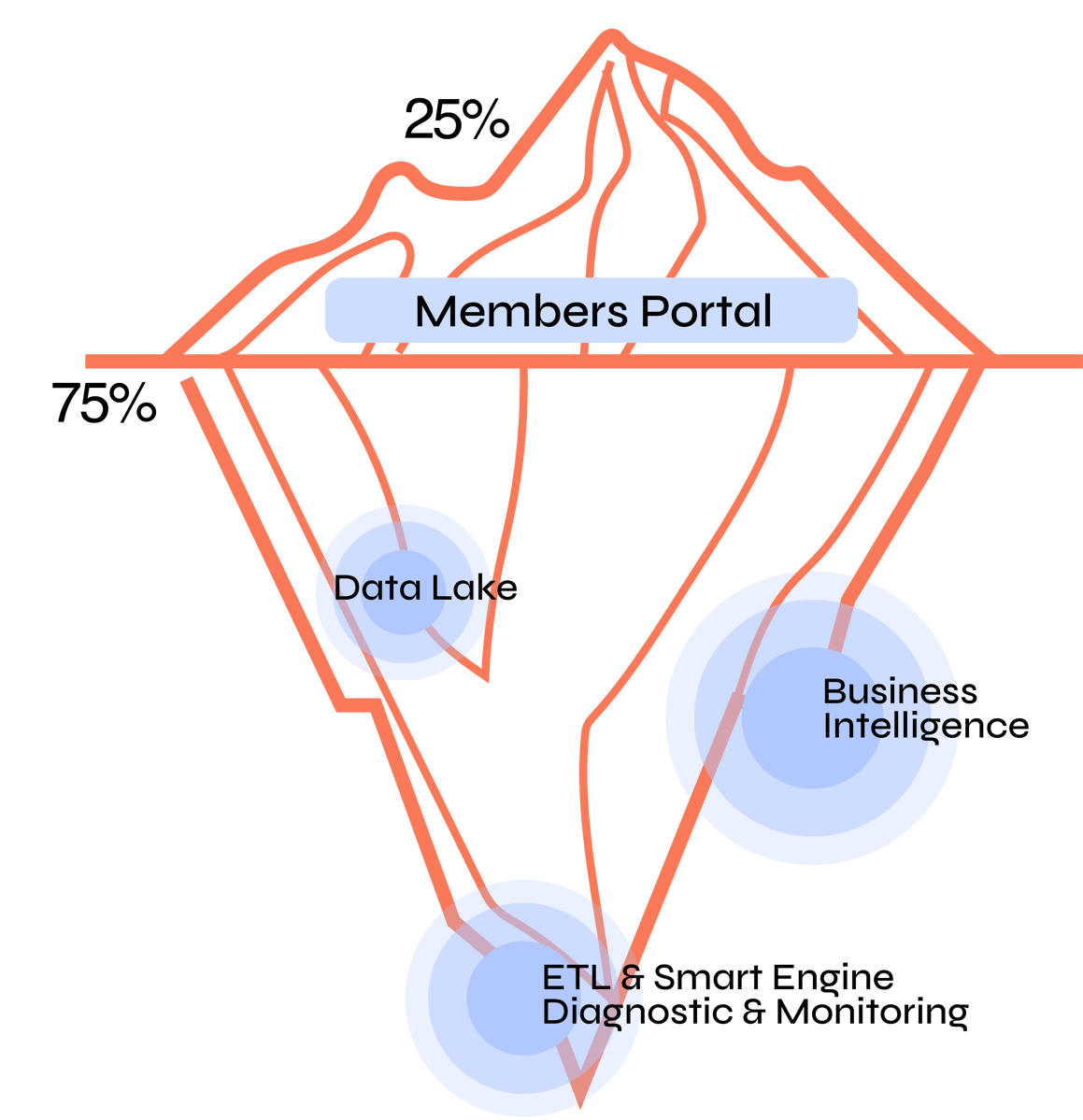 INTELLIGENCE REDEFINED
On the surface, an effortless single sign-on portal for your entire business intelligence. Behind the scenes, a powerhouse of proprietary technology and expert minds work seamlessly to transform complex, unstructured data into actionable insights, ensuring you're always ahead.
PROPRIETARY TECHNOLOGY
We seamlessly utilise our propriatory 'SmartEngine' technology to power every facet of our cloud service.
From application development and scaling to ensuring top-tier security and compliance. Experience a holistic backend operation where middleware services, resource management, and monitoring analytics work in harmony, avoiding vendor lock-ins and promoting efficient collaboration.
PLATFORM
MEMBERS PORTAL
Firehawk Analytics has worked closely with its clients to build a user-friendly platform that democratises information across organisations, promotes transparency and accountability, and enables companies to make evidence-based decisions.
Implement single sign-on across your organisation, facilitating seamless, permission-based access to critical information for authorised teams.
Empower bookkeepers with dedicated sections for financial management, subject to CFO approvals, guaranteeing secure, validated data dissemination.
Stay tuned to vital external market dynamics, ensuring comprehensive awareness and proactive business responsiveness.
Streamline user management and access through a centralised admin section, enhancing data governance and operational efficiency.
Leverage Insights+ to infuse artificial intelligence into your data processing, unlocking profound, actionable business insights.
Utilise mail-out alerts for continual monitoring of key performance indicators, promoting informed decision-making on the go.
Benefit from versatile report data downloads, enabling offline analysis or effortless sharing among colleagues through comprehensive formats.
Access unparalleled support via a dedicated ticketing system, your gateway to personalised BI and Data Science services.
CASE STUDIES
Unlocking Business Potential
Explore client success stories of enhanced BI and insights, leading to significant cost savings.
SITUATION
The existing CRM system presented a mismatch for business requirements, notably lacking sufficient APIs, impeding optimal operation.
SOLUTION
Firehawk Analytics devised strategic workarounds, ensuring precise information extraction and loading despite system limitations.
IMPACT
Resultant integration allowed comprehensive, real time visualisations of crucial operating and financial metrics, centrally hosted on Firehawk's innovative platform.
SITUATION
Confronted with intricate legacy extraction and storage software, architected by external engineers, the client faced operational obscurity.
SOLUTION
Implementing Firehawk Analytics' advanced SmartEngines and SmartBox' utlised to store only pertinent data, bypassing pre-existing complexities.
IMPACT
Firehawk Analytics platform removed the need for third-party licence fees, realising annual savings surpassing $80,000.
SITUATION
The client grappled with the prohibitive expenses and inefficiencies inherent in recruiting data engineers, scientists, business analysts, and BI specialists.
SOLUTION
Firehawk Analytics intervened, offering a composite team encompassing all requisite expertise, accessible on-demand for a consistent monthly expenditure.
IMPACT
This innovative approach yielded substantial economies, with net savings approximating $200,000, equivalent to the costs of two full-time professionals.
SITUATION
Challenges peaked with monthly board packs delayed until three weeks post-month-end, inciting significant directorial discontent.
SOLUTION
Prompt execution of integrative solutions, bridging payment gateways/CRM to accounting software, complemented by targeted, automated dashboards and reports.
IMPACT
The outcome delighted directors, reclaimed two weeks for the CFO and accounting personnel, and obviated the need for offshore bookkeeping.
SITUATION
Overwhelming volumes of unstructured, text-based customer feedback posed analytical challenges, hindering comprehension and responsive action.
SOLUTION
Firehawk Analytics deployed 'Insights+' for unstructured data, employing AI for categorisation and sentiment analysis across extensive feedback collections.
IMPACT
Enabled immediate discernment of customer sentiments by category, liberating the marketing team to concentrate on devising pertinent implementation strategies.
SITUATION
Production staff were encumbered with accessing multiple systems for order retrieval, leading to inefficiency and error susceptibility.
SOLUTION
Firehawk Analytics synthesised daily production and delivery data, presenting a unified, real-time dashboard for comprehensive insight.
IMPACT
Dismantled information silos and system multiplicity, significantly reducing human error, fostering transparent communication, and elevating production department satisfaction.
SITUATION
Accelerated growth caused inventory accumulation across various jurisdictions, complicating inventory and supply chain management.
SOLUTION
Firehawk Analytics executed data extraction from inventory systems and sales pipelines, aligning physical stock information, thereby enhancing real-time visibility.
IMPACT
Streamlined purchase order timing, catalysing a substantial inventory reduction of approximately 15%, effectuating multi-million-dollar savings.
SITUATION
Client aspired to secure capital, emphasising future business value via detailed visualisatio of key performance metrics.
SOLUTION
Firehawk Analytics developed a Virtual Information Memorandum, facilitating potential investors in their understanding of their business during their decision-making processes.
IMPACT
Successful capital acquisition, assuring investors of robust business health and management's real-time financial proficiency.
SITUATION
Client juggled multiple third-party marketing collaborators, each presenting divergent perspectives.
SOLUTION
Firehawk Analytics' platform integrated all digital marketing channels, offering a comprehensive view of marketing efficacy.
IMPACT
Enabled nuanced adjustment of sales/marketing strategies, utilising an unbiased, holistic viewpoint for informed decision-making.
SITUATION
The client grappled with multiple accounting software instances, hindering a unified group perspective.
SOLUTION
Firehawk Analytics facilitated accounting consolidation (inclusive of eliminations), enabling budgetary reporting on a consolidated basis.
IMPACT
Streamlined group consolidation and effortless monthly director reporting, readily accessible to board members.
SITUATION
The client needed a stratified information dissemination system for stakeholders ranging from shareholders to operational staff.
SOLUTION
Firehawk Analytics built in permission-based tools, customising dashboard access to meet individual and team-specific needs.
IMPACT
Enhanced transparency and accountability through precise information sharing, avoiding information overload or confidentiality breaches.
SITUATION
Directors desired insights into their private firm's value, contextualised by market trends.
SOLUTION
Firehawk Analytics employed proprietary data, benchmarking valuation metrics against public entities, enriching directors' perspectives.
IMPACT
Enabled informed, strategic decision-making by offering directors real-time market fluctuations and comparative analytics with listed peers.
SERVICES
ACCOUNTING AND FINANCE
Firehawk Analytics is an all-in-one reporting, analysis, and forecasting tool that provides businesses with insightful reporting, fast cash flow forecasting, and actionable financial insights. It is a refreshingly easy business management solution.
Streamline financial planning with intuitive options for uploading and downloading budget spreadsheets, enhancing organisational efficiency.
Simplify financial tracking with user-friendly journal codes, categorising revenue and expenses effectively for comprehensive insight.
Execute hassle-free group consolidation by merging subsidiary accounts, ensuring accurate, unified financial views for Group accounts.
Experience superior budgeting clarity through stunning visualisations and facilitating informed approval processes.
Elevate performance analysis using monthly financial reports, contrasting monthly actual against budget for timely board paper.
Augment financial insights by integrating KPIs from various sources like CRM and payment gateways, revealing underlying business dynamics.
Count on the relentless backing of Firehawk Analytics' team, guaranteeing uninterrupted, optimal functioning of your financial systems.
Stay ahead with regular reporting and real-time alerts, ensuring you're constantly updated on pivotal financial deviations or milestones.
RESOURCES
DISCOVER FIREHAWK ANALYTICS INSIGHTS AND EXPERTISE THAT HELP GROW BUSINESSES
Explore how Firehawk Analytics transforms traditional month-end reporting into a 7-day streamlined process for CFOs and financial teams.
Learn how effective database management practices can elevate data quality and support informed decisions in today's dynamic business environment.
Discover how our affordable AI tool can optimize your SEO and content and take the effort out of painstaking content management.
Business Intelligence made easy.
Take a guided tour
Book your free demo to find out how you can accelerate your growth profitably through evidence based decision making.